Back to top
About May Gibbs – Australian Children's Author and Illustrator
Early Life
May Gibbs (1877 – 1969) is one of Australia's most treasured illustrators, artists and children's authors. Her bush fantasy world has captured the imaginations of  Australians for over a century, creating a uniquely Australian folklore that holds a special place in the hearts of a nation. May was to say in later life 'I've always had the greatest pleasure in thinking of all those little children who enjoyed my books. Everything became alive for me, it was just a fairy tale all the time.' Born Cecilia May Gibbs in England on 17 January 1877, she was the only daughter of artist, cartoonist and public servant Herbert William Gibbs and Cecilia Rogers. May emigrated to Australia with her family in 1881 aboard the Hesperus at four years of age. First trying their hand at farming in South Australia, followed by two years at Harvey Cattle Station in Western Australia, the Gibbs family eventually gave up on the farming life and settled at 'The Dunes' in Perth. Over this time the young May spent many impressionable years observing the beauty of the Australian bush. In later years May was to say 'It's hard to tell, hard to say, I don't know if the bush babies found me or I found the little creatures'. Raised in a creative household, May demonstrated artistic ability from an early age – 'I could draw before I could walk,' May was to recall. May excelled at botanical drawings and in 1892 at just fifteen years of age May won her first Art prize at the Perth Wild Flower Show, the first of many throughout the 1890s.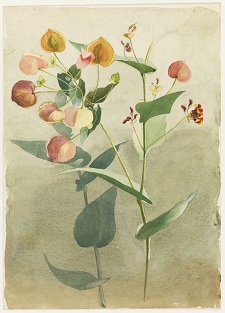 Artist in Training
In early 1900 May made her first trip to England to begin her art studies in London. Studying at Cope and Nichol Art School by day and taking night classes at the Chelsea Polytechnic Institute, May worked extremely hard honing her artistic skills in life drawing and character sketching. Her intense dedication caused May to suffer ill health and she was persuaded by her concerned parents to return home to Perth in late 1901.
Securing ongoing commissions with local stores and publications, this was also May's first professional foray into social commentary, publishing illustrations under the pseudonym 'Blob' for Western Australian magazine Social Kodak.
The lure of London saw May once again return to her formal studies in 1904, this time at Mr Henry Blackburn's School for Black and White Artists and further night studies at Chelsea Polytechnic. Finishing her time with first class passes, the tuition in single-line drawing at Blackburn school was to decide the direction her career would take.
The 'New Woman'
Gibbs embodied the 'New Woman' of the early 20th Century although she never saw herself as a feminist, saying in later years 'I never thought of myself other than as an individual and I was never anti-man.' Returning to Perth in 1905, May embarked on a successful career as an illustrator for leading Western Australia newspaper, The Western Mail. During this time she also began to dabble in other creative arts and wrote Mimie and Wog: their adventures in Australia under the pseudonym Silvia Hood, but it was rejected by publishers and never published.
When the Western Mail chose to give the prized 1908 Christmas cover to up and coming young artist Ida S. Rentoul (Outhwaite), a furious May decided to once more travel to London to make a last attempt to succeed as a professional artist and writer. In November 1909, accompanied by her mother Cecie, the thirty-two year old May made her final journey to London.
Once again making the rounds to British publishers May was given the advice to appoint an agent. She placed her work with literary agent Charles H Wood who secured her commissions as an illustrator with leading British publisher George G Harrap. Wood also tried to interest English publishers in May's stories and, after reworking her original title Mimi and Wog, she was rewarded with a publishing contract. Her story About Us was published in 1912 in London and New York, but never released in Australia. During this time May also drew cartoons for various newspapers, the Christian Commonwealth and suffragette publication The Common Cause. It was also at this time that May met her lifelong friend, activist socialist and suffragette Rene Eames.
Once again suffering ill health due to a heavy work schedule, May returned to Perth in 1913 accompanied by Rene. May once again began providing satirical cartoons to the Western Mail but when the clash of personalities between Cecie and Rene became too pronounced, May and Rene headed for Sydney. Here they settled in a boarding house in Neutral Bay and May travelled by ferry to her 'Little Studio' at 4 Bridge Street in Sydney where she quickly established herself as a talented and in-demand artist and illustrator. She maintained a steady livelihood with commissions from publishers, completing book covers for Angus and Robertson, cover illustrations for prestigious literary magazine The Lone Hand and major New South Wales newspaper Sydney Mail.
The Birth of the Gumnut Babies
On moving to Sydney, May soon discovered the natural beauty of the Blue Mountains bushland and from her imagination the bush fairyland began to emerge.
Late in 1913, May was commissioned to illustrate the headpiece for Ethel Turner's serial The Magic Button in the Sydney Mail. Hidden among the detail is a family of gumnuts peeping shyly out. A few years later May was to tell Theatre Magazine the idea for these gumnut babies came to her 'in the middle of the night'. In December May also took out copyright registration for a gum-leafed bookmark which would become one of Australia's most iconic designs.
In January 1914, the Gumnut Babies (called 'Gum-Nut Brownies') made their second appearance on the cover of the January issue of The Lone Hand. Intrigued with the little figures, the publisher of the Sydney Mail commissioned May to do twenty-five covers and from here the bush fairies began to make the appearances.
At the onset of World War I, May contributed by creating postcards featuring gumnut characters and Australian animals to be sent by families and in Red Cross parcels to the diggers across the world. These helped establish the foundation of fans and held pride of place in a nation's psyche during a time of turmoil.
May had also began to make a name for herself with a steady output of ephemera – calendars, pictures, postcards and her iconic gumleaf bookmark. Initially handcrafted by May and Rene, demand soon gave way to commercial print runs.
Having established herself as an artist and keen to focus once again on writing, May began to write the Gumnut Babies stories which were destined to become classic Australian literature. On 5 December, just in time for Christmas, Gum-Nut Babies was published. This was followed shortly after by Gum-Blossom Babies. Critical response to these books was quite extraordinary and both books were an immediate sell out. Encouraged, May wrote three more bush baby books – Boronia Babies, Flannel Flower and Other Bush Babies in 1917, and Wattle Babies in 1918. The bush babies were now firmly established as part of Australian folklore.
In 1918, May took her place as a beloved Australian children's author. Her most ambitious work to date Tales of Snugglepot and Cuddlepie was published and was ardently scooped up by the Australian public and has never been out of print to this day. The book received glowing reviews both at home and abroad with readers enchanted by its distinctly Australian flavour. May's contemporary Miles Franklin wrote in praise of the book, encouraging friends to read it also. It was within this book that May also revealed herself as a committed conservationist with the opening inscription 'Humans Please be kind to all bush creatures and don't pull flowers up by the roots'. Her concern was recognised and, in 1919, May Gibbs was made a life member of the Royal Society for the Prevention of Cruelty to Animals.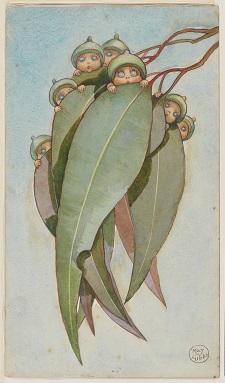 Mrs Kelly
It was around this time that May met mining agent James Ossoli Kelly when visiting her parents in Perth. Years later, May was to admit, 'The first day I met J.O., I thought, "There's the man I'm going to marry!" After a short and intense courtship, they married quietly at a registry office in Perth in 1919. The newlyweds returned to Sydney and settled in Neutral Bay, with J.O. also becoming May's business manager. In 1925 they built a house, Nutcote, at Neutral Bay where May was to live and work as a children's author and illustrator the rest of her life.
More Gumnuts & Further Writing Adventures
The 1920s were a prolific and prosperous time for May Gibbs. In 1920 she received a most important commission – to produce a promotional poster for the NSW Department of Public Health for the first ever Baby Week. The resulting artwork titled Dr Stork and Mrs Kookaburra is one of her most celebrated images. The image was immensely popular and was still in use until 1959.
In mid 1920s two further gumnut books were published: The Story of Nuttybub and Nittersing (1923) and Two Little Gumnuts: Chucklebud and Wunkydoo (1924).
After moving to Nutcote in 1925, May was inspired to create her popular comic strip Bib and Bub along with two further books: Scotty in Gumnut Land (1941), Mr & Mrs Bear & Friends (1943) and her final book, Prince Dande Lion (1953).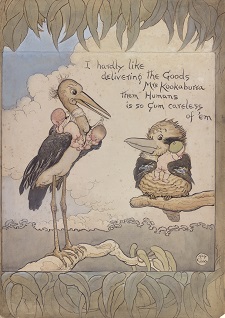 May Gibbs, The Cartoonist & Columnist
As the first woman cartoonist in Australia, May Gibbs secured not one but two contracts to produce weekly cartoon strips for two rival newspapers. Her popular Bib and Bub cartoon strip first appeared in the Sunday News on 3 August 1924 and was later syndicated to newspapers across Australia and New Zealand. It was to become Australia's longest running comic strip, continuing until late 1967. The success of Bib and Bub prompted the Sunday News to expand their children's supplement and include a column by May titled Gumnut Gossip – Extracts from the Daily Bark. The weekly newspaper column ran from 1925 until 1935 and featured short stories and illustrations of life in Gumnut Town, always with a humorous twist or moral for its readers.
Publishing under the pseudonym Stan Cottman, May created her second cartoon strip featuring the pipe-smoking pig Tiggy Touchwood, which was published in rival newspaper the Sunday Sun along with Melbourne's Sunday News Pictorial from 1925 until 1931.
The popularity of the comic strips saw numerous books published: Bib and Bub Their Adventures, Part 1 (1925), Wee Gumnut Babies – Bib and Bub Part 2 (1925), Further Adventures of Bib and Bub (1926), More Funny Stories about Old Friends Bib and Bub (1928), Bib and Bub in Gumnut Town (1929), and Bib and Bub painting book (1932).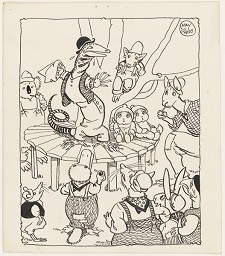 Later Years
The Depression Years of the 1930s was particularly hard on those working in the arts, with items such as books seen as luxuries. May's books experienced a slump in sales and she was never able to quite recover from this financially. After J.O. passed away in 1939, May busied herself with her work, her beloved Scotty dogs and tending the garden at Nutcote. At the passing of both her beloved father and mother in 1941 and her close friend Rene in the early fifties, May became a virtual recluse.
In 1955, May Gibbs was appointed Member of the British Empire (MBE) in acknowledgement of her important contribution to Australian children's literature. May's sense of fun and clever humour was never lost as she planned the writing of an autobiography to be titled 'This Other Fair(y) Tale' by Ann Onymous. Sadly it never progressed beyond early notes and jottings and exhausted she wrote the project off as 'A Muddle of Memories, a Huddle of Hearsay, A Gabble of Gossip, A Riot of Richness'.
In April 1967, her ninetieth year May completed her last cartoon and retired. On 27 November 1969, May Gibbs passed away in Sydney aged 92 years. The news of her death was a moment of great sadness for all Australians, with the following tribute expressing the sentiments of Australia:
'No one will be quite as good. No one will touch such a multitude. May Gibbs is alone in her creative genius. For this reason May Gibbs has gained lasting fame in her own land.'
Charities: Cerebral Palsy Alliance & Northcott
May Gibbs left a lasting legacy to thousands of children and adults with disability. Upon her death in 1969, May Gibbs left the copyright of all her works jointly to The NSW Society for Crippled Children (now known as Northcott) and the Spastic Centre of NSW (now known as Cerebral Palsy Alliance). The generosity of May Gibbs will continue to assist the works of these charitable organisations through the royalties on sales of May Gibbs books and associated products.
About Northcott
For over 85 years, Northcott has provided support and services to children, young people and adults with disability to develop life skills, build confidence and become active participants in their communities. See more at: https://www.northcott.com.au/
About Cerebral Palsy Alliance

Cerebral Palsy Alliance provides family-centred therapies, life skills programs, equipment and support for people living with cerebral palsy and their families and operates from 55 sites throughout metropolitan, regional and rural NSW and the ACT. See more at: https://www.cerebralpalsy.org.au/