Gumnut Babies 100th Birthday Giveaway
Win 1 of 10 May Gibbs prize packs to celebrate the 100th Birthday of the Gumnut Babies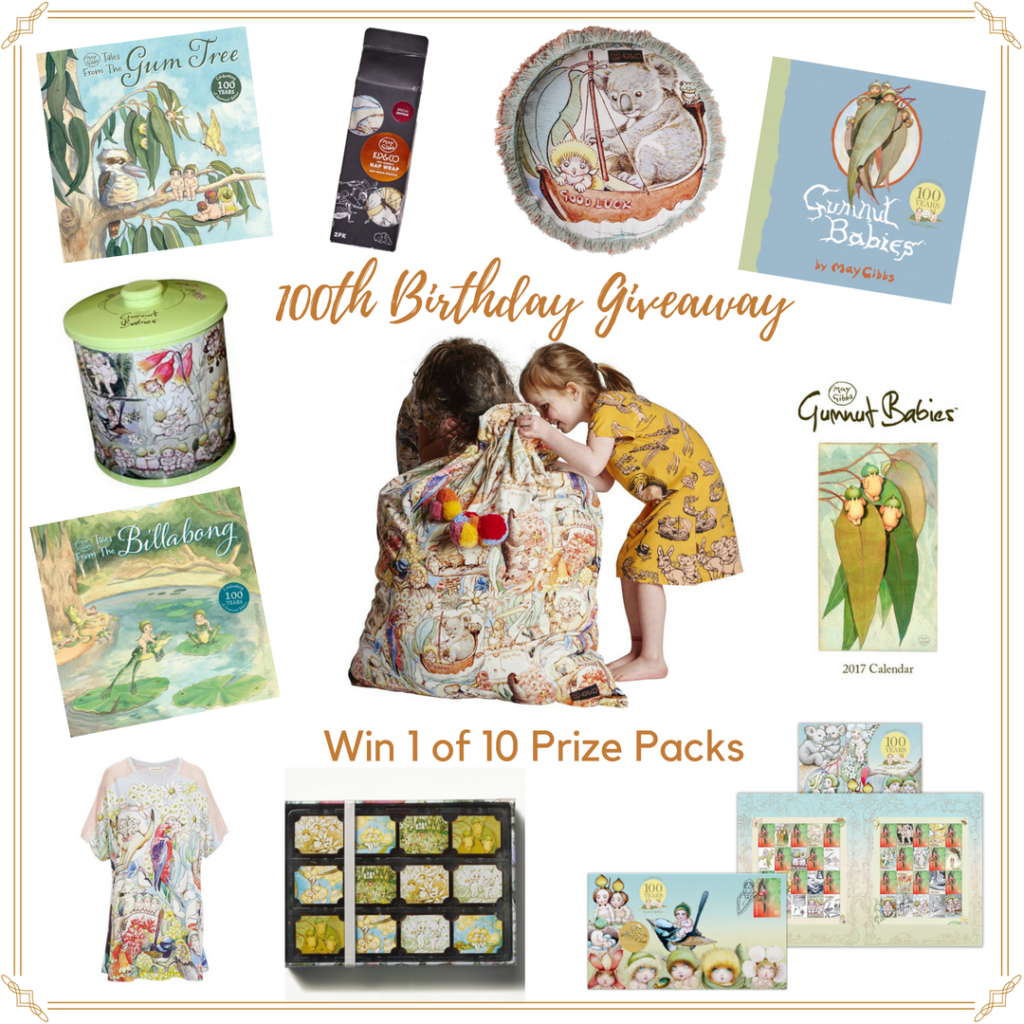 This competition has now closed. Congratulations to the following winners and their winning entries with ideas on ways the Gumnut Babies could celebrate their 100th birthday:
Kate Breen – Honeysuckle Fizz and Wattle Seed Cake followed by a game of gum-leaf whistling to scare the possums!
Louise Vacher – Riding gum leaves down streams in the sunshine and eating wattleseed icecream sundaes
Kathy Chaudhry – (G)oing on an (U)ndeniably (M)agical adventure in their (N)atural surroundings to (U)ltimately find a birthday (T)reat for everyone! Maybe flying in (B)utterfly boxes or (A) fun time on (B)rilliant spider web swings! (I) wonder what (E)xcitement they\'ll (S)hare along the way…(MAY) be (G)oing (I)nside the (B)ush for (B)irthday cake to (S)hare!
Shelley White – I think that they would collect nectar from the blossoms and honey from the bees to make tasty birthday treats to celebrate with all of their bushland friends. Decorating the party with bottle brush and wattle and having fun party games like gum nut bowling and seed pod boat racing.
Mary Eddy – They will give everyone a box filled with shredded paper and when the kids dig deeper they will find lots of treasures like a lot of the things mentioned above. But the most special thing is an invite to their magical 100th birthday party.
Jessi Deakin – By hitting the local bush dance and doing 'The Nutbush' with Little Ragged Blossom and steering clear of the big bad Banksia Men of course!
Bec Lynch – Definitely old games such as frog diving and seahorse racing and perhaps some new ones like vine sliding and cassowary racing!! Plenty of time for nut babies to come up with lots of fun things to do when they are 100!
Brooke Healy – Using logs as roller coaster trains with all the gum nuts and bush land friends through the crevices of Uluru landing with a mighty splash in one of the pools formed by the overnight rain.
Melissa Grazules – I was always told as a little girl that when there were heaps of gumnuts on the ground ( under a gumtree) they were all the gum babies hats that had been left behind after a party so I imagine this would be the state of the ground after celebrating long into the night with all their bush friends with music.
Catherine Stein – Go for a fly on Mr kookaburra's back swooping through the trees and scaring all the villains. Then a big party with all the bush folk and lots of singing and dancing!
—–
Share in the birthday fun as we celebrate the 'birth' of our little Aussie bush fairies, the Gumnut Babies. When May Gibbs' book hit the shelves on the 5th December 1916, these adorable little characters captured our hearts and have remained there ever since.
To celebrate the centenary, we're giving away 10 May Gibbs prize packs featuring a beautiful May Gibbs x Kip & Co Limited Edition Santa Sack filled with wonderful May Gibbs goodies valued at over $500 in total: