Date : October 28, 2019
September and October are popular months for Birthdays. And what a beautiful time of year to enjoy a party to celebrate those who have turned another year older?
A garden party or park fiesta offers a stunning Australian backdrop to a Birthday party. We have plenty of ideas to enjoy a Gumnut Baby Birthday. Extend the nature experience with your party favours given to guests at the conclusion of the party.
Why not introduce a bit of Australian flora to your gift bags for a personalised touch? These Australian Native Party Favour Bags are sure to be a hit with guests.
Use this idea for Birthdays or Christmas; these party favour bags are a sweet way to delight recipients. Best of all, most of the materials are free – from the garden. All you're limited with is your imagination!
You will need:
·        A selection of Australian native flowers, leaves and gum nuts
·        Scissors
·        Hot glue gun
·        Brown paper bags or brown paper party favour bags
Instructions:
Step 1: Head outside for a nature expedition to gather your supplies. Think bottle brush, wattle, grevillea, eucalyptus, and any other gumnuts or flowers you can find.
Step 2: Turn on the heat gun to heat the glue. Arrange your nature finds on the brown bags.
Step 3: Glue the flowers, stems and leaves onto the bag. Allow the glue to dry.
Step 4: When all your bags are decorated, fill with an assortment of gifts.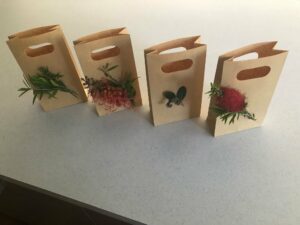 Gift ideas to fill your Australian Native Party Bags
Here are some gift ideas to fill your bags
·        White Chocolate and Macadamia Nut Cookies
·        Eucalyptus lollies
·        Easy craft activities for kids to make
·        Hand cream or lip balm
·        Jewellery
·        Chocolate buds