Date : November 11, 2020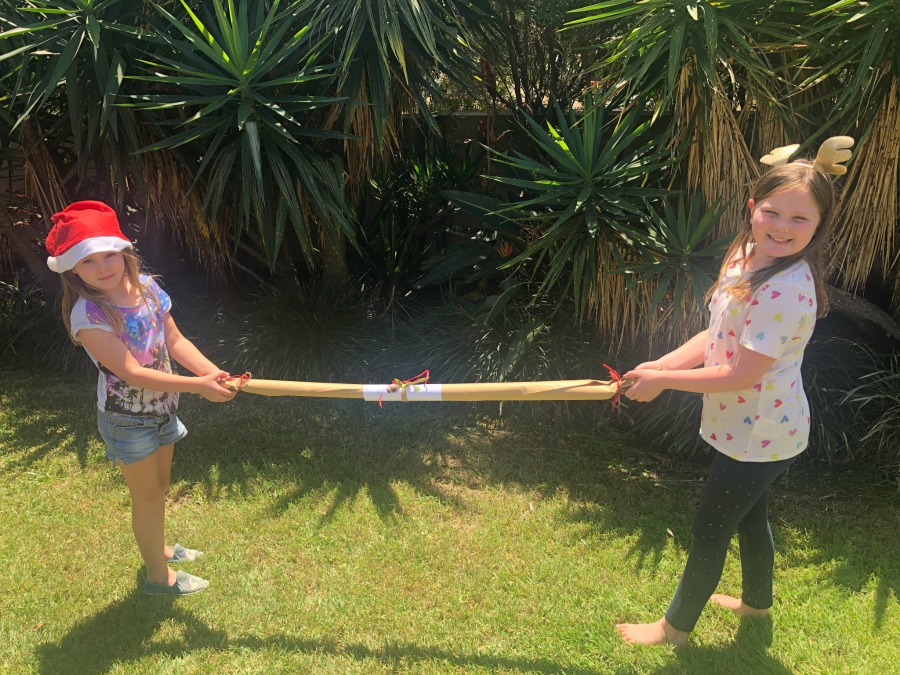 Christmas is coming and with the Australian state borders slowly opening, it's the perfect time to catch up with interstate family and friends.
How wonderful will it be to see our family and friends in person rather than a screen! It's the best Christmas gift a family could ask for. 
If you're planning for a catch up with interstate cousins, social distancing is still recommended. 
When you're a kid on Christmas Day, this can be hard to do. But here's an activity the kids will enjoy that doesn't require close contact: The 1.5metre Christmas Cracker Pinata!
Materials
Inner roll of a 1metre roll of wrapping paper x2
White Paper
Sticky Tape
Craft glue
Twine and ribbon
Gumnuts and leaves for decorations
Individually wrapped lollies and chocolates
Instructions
1. Use tape to stick the ends of each 1metre roll to each other. You may be able to insert one roll into the other and stick together to create a firm roll.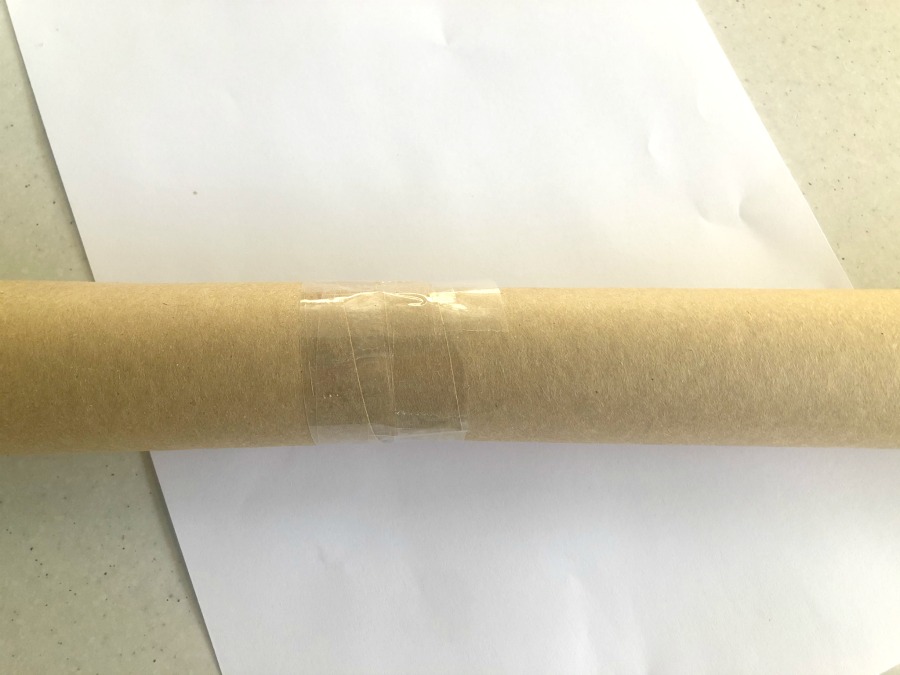 2. The rolls I used were thin enough to twist and create the handles for the cracker. If your rolls are a thick cardboard, use brown paper or Christmas paper to wrap around the roll to create the cracker. Only twist one end first.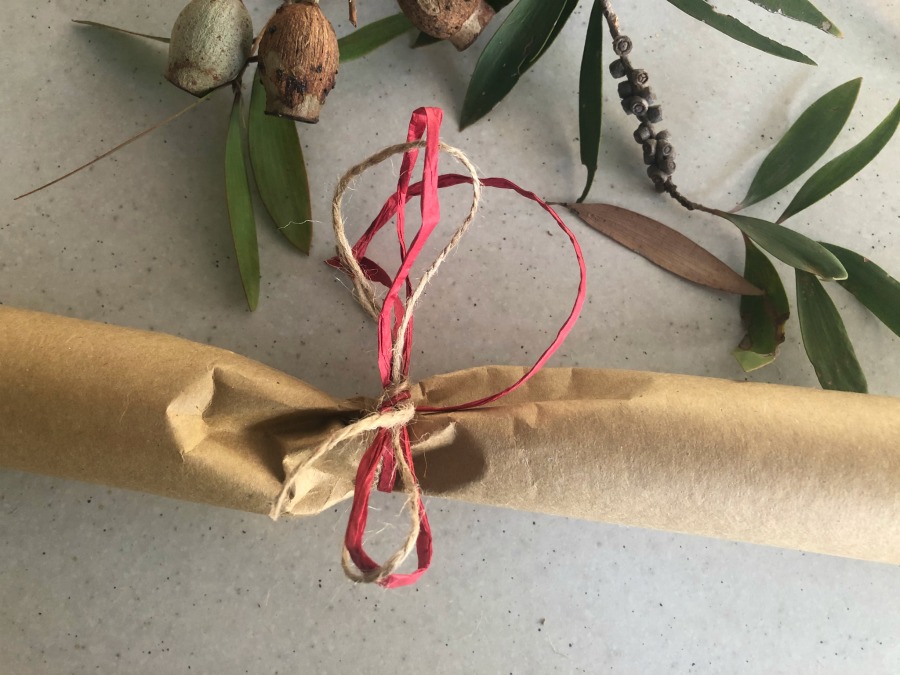 3. Decorate the inner section of the cracker with paper, twine, gumnuts and leaves. This section should pull apart when the kids pull it taut. The decoration is to cover over the connection of the two rolls. 
4. Fill the cracker to the brim with lollies and then twist the paper to create the handle.
When complete, the 1.5metre Christmas Cracker is ready to be pulled! The cracker should pull apart causing lollies to disperse on the ground for the kids to pick up.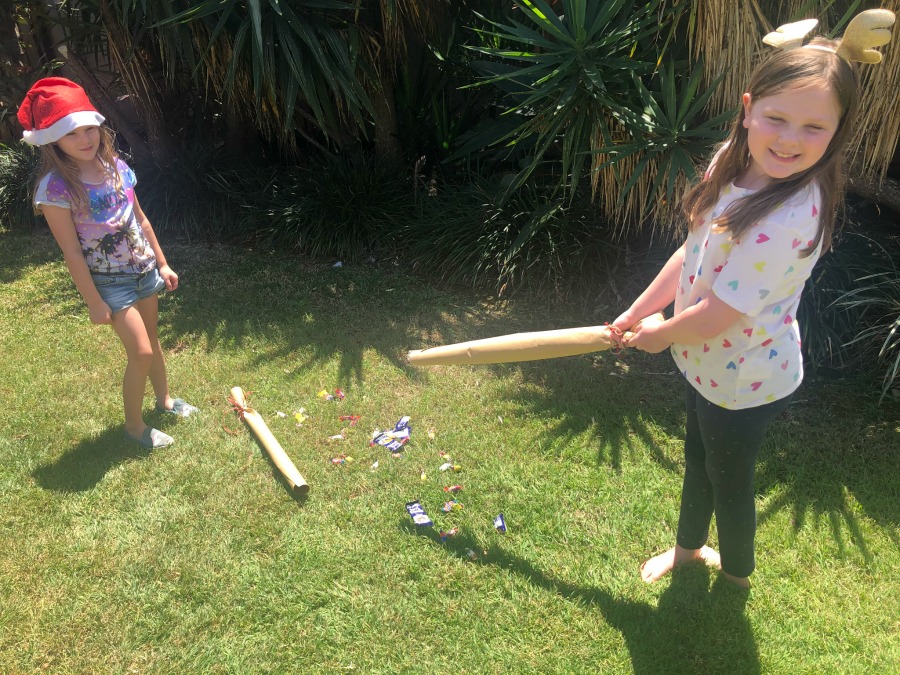 Other Social Distancing Christmas Game Ideas
Santa Says
Get the kids outside to play a game of Santa Says. It's exactly like Simon Says, but replace Simon with Santa.
The kids can stand 1.5 metres apart when playing. One child stands at the front as Santa and gives instructions the kids need to follow. 
"Santa says touch your toes" and the kids touch their toes.
"Santa says hold your ears" and the kids hold their ears.
"Touch your nose" and the child who touches their nose is out of the game because they must only act on the instruction starting with 'Santa says'.
Candy Cane Scavenger Hunt
A candy can scavenger hunt in the garden is another great way to get the kids outdoors where the social distancing can be controlled. 
The best candy canes are the larger style which can be looped over a tree branch or leafy plants. 
It's best to play this one in the morning or late afternoon when the midday sun doesn't melt the candy. 
Happy Holidays!