Date : July 31, 2018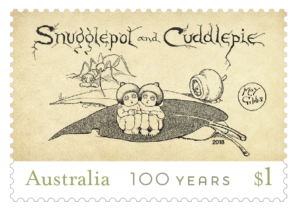 In celebration of 100 Years of May Gibbs' Snugglepot and Cuddlepie, Australia Post has released a commemorative stamp as part of their national stamp program. The beautiful postage stamp features the original  pen and ink illustration drawn by May Gibbs for the first book in the Gumnut brothers trilogy, Tales of Snugglepot and Cuddlepie and is available now from Australia Post online, at participating Post Offices and via mail order on 1800 331 794, while stocks last.
We're joining the celebrations with a birthday gift for all of you! We've created a series of free downloadable May Gibbs themed mail art templates to encourage fans of all ages to embrace the art of letter writing. You can find the links to download at the end of this post.
Join the Mail Art Movement
What is Mail Art? According to Wikipedia, Mail art (also known as postal art and correspondence art) is a populist artistic movement centered on sending small scale works through the postal service. People have been sending art via post for years. In fact, this was May Gibbs preferred way to communicate with friends and family as she would often sketch funny scenes from daily life on a letter or postcard and mail it off to entertain and correspond with loved ones.
In the 1950s, artist Ray Johnson began experimenting with art in the mail by posting small collages, prints of abstract drawings and poems to art world notables giving rise to what eventually became the New York Correspondence School and recognition of postal art as a concept of its own. Its popularity continued in to the 1960s when artists sent postcards inscribed with poems or drawings through the post rather than exhibiting or selling them through conventional commercial channels.
Mail artists use a variety of media to create small scale works that are only big enough to be put in or on envelopes or postcards and posted away to the lucky recipient. It can include decorated envelopes, postcards, friendship books and more. By embracing the old fashioned practice of 'Snail Mail' we can slow down and connect with ourselves through the creative process as well as connecting with others through sending something personal and handmade just for them.
Search for Mail Art online or #mailart on Instagram and you'll find a whole new world or artistic inspiration.
Kids Love Sending and Receiving Letters
We all love receiving something special in the mailbox created just for us and for kids the novelty of opening the mailbox and finding something with their name on it can create such joy and inspire them to write their own letters to send to family and friends. In a modern world where communicating via text, email and social media is quick and easy, the art of stopping and creating something handmade and personal is an important and fun skill to share with children.
Not only will the kids have fun but the learning opportunities are numerous – from reading the received letters, handwriting practice in writing letters, to art expression, geography (where is the letter travelling to?) and maths skills (what does the parcel weigh, how many stamps are needed?). It also helps to teach kids patience and to slow life down a little as they wait for their special letter to be received by the recipient or to see if something special arrives in the mailbox for them.
Download Our Free May Gibbs Mail Art Templates
So what are you waiting for, let's hurry up and slow down as we embrace mail art and nuture old friendships and foster new connections. To get you started, we've created some free downloadable May Gibbs themed mail art envelope templates. Simply download and print the templates below then colour, paint or decorate them any way you like and write the address in the space provided. To assemble your envelope:
1 – Cut around the edges of the template
2 – Fold each side in and then fold the bottom flap up over the sides
3 – Glue the back flap to the sides
4 – Fold the top flap down ready to glue closed once you've placed your letter or art creation inside the envelope
Be as creative as you like in decorating the envelope and when adding the adress details. And don't forget to stick a Snugglepot and Cuddlepie postage stamp on the envelope to finish your masterpiece!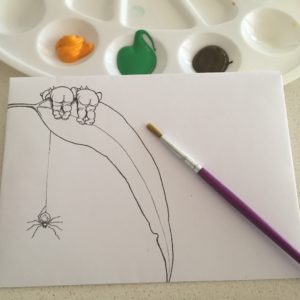 Download: Gumnut_Babies_Spider_Mail_Art_Template
Download: Ragged_Blossom_Mail_Art_Template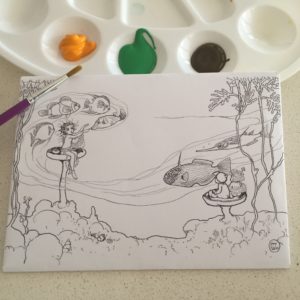 Download: Little_Obelia_Mail_Art_Template
Download: Gumnut_Mail_Art_Template
You can also use the May Gibbs paper craft range from Paper Rose. The range includes stamp and dies perfect for making beautiful cards and envelopes to send off with the postie.
If you don't feel like creating your own mail art but love the idea of snail mail, we have a selection of gorgeous greeting cards and May Gibbs WWI patriotic postcards available from the May Gibbs Official Online Store.
For those interested in the bourgeoning Mail Art community, you can display your creations online by joining Australia Post's Mail It Forward initiative. Message @auspost on Instagram. #mailitforward #mailart
We'd love to see some of your finished creations too! Share them with us on our Facebook page or tag us on Instagram @MayGibbsOfficial. You can also post them to us at May Gibbs Official, PO Box 756, Wahroonga NSW 2076.