Date : July 9, 2022
Tim Tam S'mores: An Aussie take on American camping treats
Nothing beats relaxing by a camp fire in an Aussie winter. Whether you set up a fire pit in the backyard or go camping in the Aussie bush, a camp fire is a must to keep everyone warm and toasty.  
Of course, relaxing in these conditions can cause hunger pangs and sometimes a sweet, gooey treat will hit the spot with a hot chocolate.  
Tim Tam S'mores are an Aussie take on America's camping treat which is traditionally a sandwich of crackers, chocolate, and toasted marshmallows. The sweet and salty flavour makes this treat oh so moreish.  
Using Tim Tams will certainly elevate this sweet delight and because Tim Tams are only available in Australia, our American cousins will just have to take our word that this dessert will dominate with the moreish pangs!  
Ingredients for Tim Tam S'mores
Packet of Tim Tams

 

Marshmallows

 

Camp Fire

 

Stick

 
Instructions
STEP 1:  Add marshmallows to the end of your stick.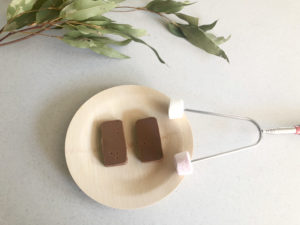 STEP 2:  Toast them on the camp fire. A good tip is to place your marshmallows near the white embers, not in the camp fire itself or you will end up with a burnt marshmallow.  
STEP 3:  Gently slide the marshmallows onto your Tim Tams.  
STEP 4:  Slam them together to make a sandwich and enjoy eating your gooey treat! 
Why not buy a few different flavoured Tim Tams for a taste sensation? This dessert can certainly be tailored to everyone's taste buds.  
Other camping with kids ideas

Crafty Bec
Crafty Bec is here to help stimulate little imaginations and spark a creative flame in little people. Inspired by May Gibbs' own passion for creative writing and art, Bec helps educators and mums to embrace nature inspired creativity.
https://www.theplumbette.com.au/